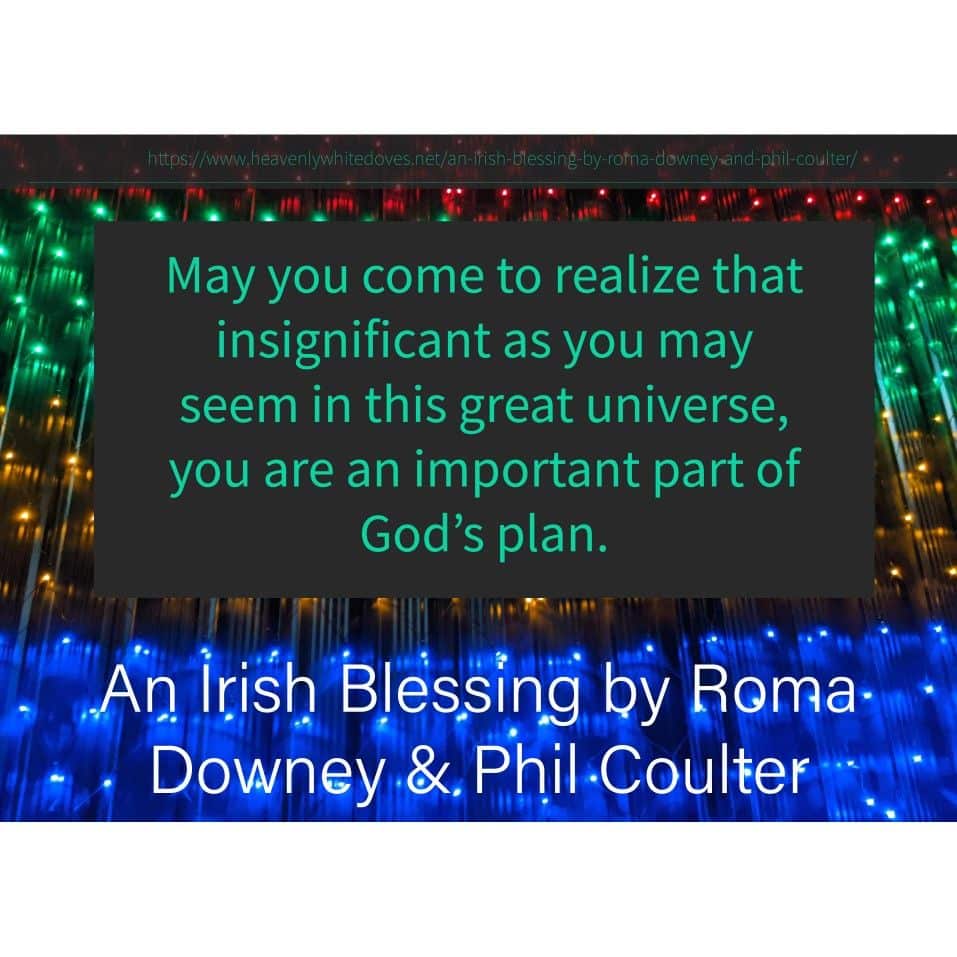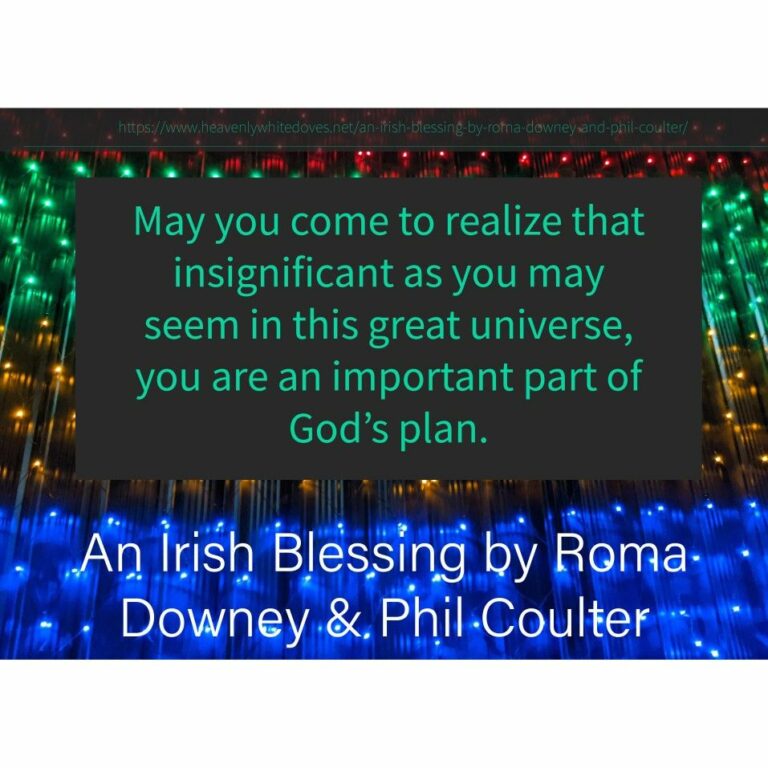 'An Irish Blessing' is the final track of an album of music written by Phil Coulter accompanied by  Roma Downey reading ancient Celtic texts. 
Roma Downey starred in 'Touched by an Angel', a TV series that ran for 11 years. She played an angel called Monica. 
May the blessing of light be upon you, light on the outside and light on the inside. With God's sunlight shining on you, may your heart glow with warmth like a turf fire that welcomes friends and strangers alike.

May the light of the Lord shine from your eyes like a candle in the window, welcoming the weary traveler.
May the blessing of God's soft rain be on you, falling gently on your head, refreshing your soul with the sweetness of little flowers newly blooming.

May the strength of the winds of Heaven bless you, carrying the rain to wash your spirit clean, sparkling after, in the sunlight.
May the blessing of God's earth be on you and as you walk the roads, may you always have a kind word for those you meet.

May you understand the strength and power of God in a thunderstorm in winter, the quiet beauty of creation and the calm of a summer sunset.

And may you come to realize that insignificant as you may seem in this great universe, you are an important part of God's plan.

May He watch over you and keep you safe from harm.

Lyrics by: Phil Coulter
The Original Irish Blessing
May the road rise to meet you,
May the wind be always at your back.
May the sun shine warm upon your face,
The rains fall soft upon your fields.
And until we meet again,
May God hold you in the palm of his hand.
May God be with you and bless you:
May you see your children's children.
May you be poor in misfortune,
Rich in blessings.
May you know nothing but happiness
From this day forward.
May the road rise up to meet you
May the wind be always at your back
May the warm rays of sun fall upon your home
And may the hand of a friend always be near.
May green be the grass you walk on,
May blue be the skies above you,
May pure be the joys that surround you,
May true be the hearts that love you
                                                                                Author: Anonymous