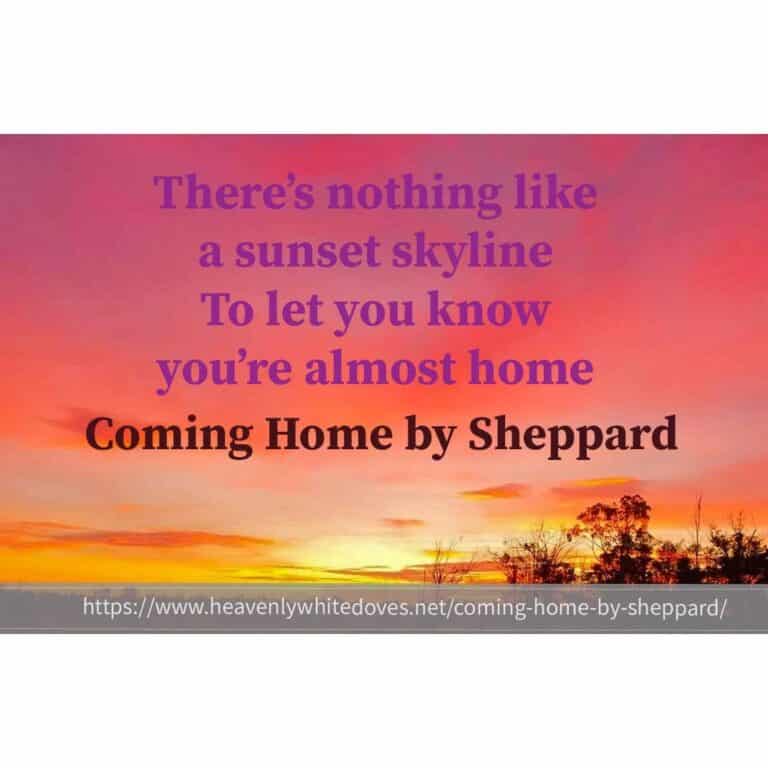 "Coming Home is an anthem for the homeward bound," says frontman George Sheppard of the track. 
"We've tried to capture the joy and excitement we all feel when we get to travel home at last – whether home is a place, a person or a state of mind. It's our most euphoric song to date."
In the context of a funeral or memorial, home would be heaven – back to God or the source of all life.
Source: themusic.com.au
I've been stuck in motion
Moving too fast
Tryna catch a moment but it slips through my hands
All I see are long days and dark nights
I'm lost without you, but I'm on my way, so hold tight
I'm coming home tonight
Meet me in the valley where the kids collide into the morning
Oh my god, my town is coming alive (coming alive)
I'm coming home tonight, I know you're ready for the sparks to fly
Into the morning
Oh my god, my town is coming alive
'Cause I'm coming home tonight
'Cause I'm coming home tonight
Don't wanna spend my whole life catching my breath
'Cause I've been running 'round and 'round and 'round
And I've got nothing left
There's nothing like a sunset skyline
To let you know you're almost home
So breathe in, and hold tight
I'm coming home tonight
Meet me in the valley where the kids collide into the morning
Oh my god, my town is coming alive (coming alive)
I'm coming home tonight, I know you're ready for the sparks to fly
Into the morning
Oh my god, my town is coming alive
'Cause I'm coming home tonight
Yes, I'm coming home tonight
Time has a way of diluting emotions
But I won't let distance get in between us, no
Oh, I'm coming home tonight
Meet me in the valley where the kids collide into the morning
Oh my god, my town is coming alive (coming alive)
I'm coming home tonight, I know you're ready for the sparks to fly
Into the morning
Oh my god, my town is coming alive
'Cause I'm coming home tonight
Oh, woah (oh, woah)
Oh, woah (oh)
Oh, woah (oh, woah)
Oh, woah, oh
——————————————————————–
Songwriters: Amy Sheppard / Christopher Wallace / George Sheppard / Jason Bovino / Matthew Smith Radosevich
Coming Home lyrics © O/B/O Apra Amcos