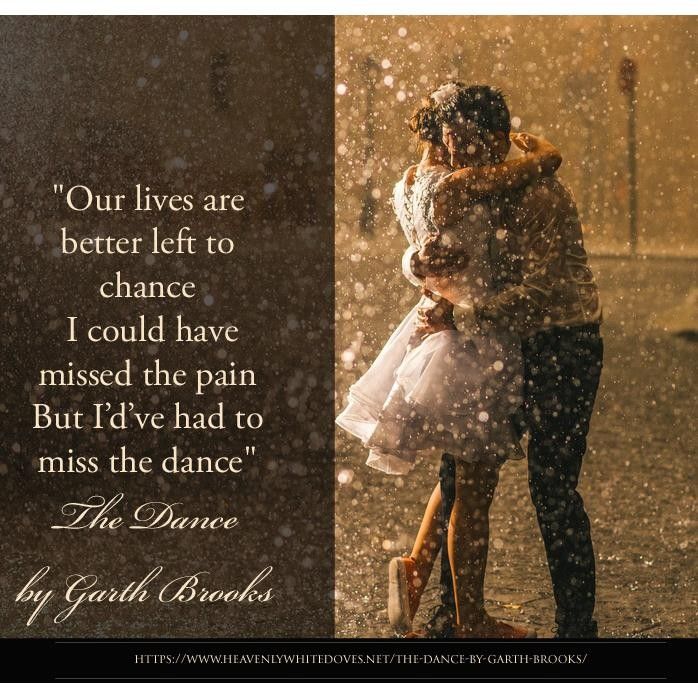 'The Dance' is considered to be Garth Brooks' signature song. It is definitely one of his most popular and well-known. 
The song has a double meaning. It is about the end of a relationship but also about someone dying because of something they believe in after their time of glory.
The film clip features footage of various famous people who have passed away often because of something they were passionate about. 
Source: Wikipedia
Looking back on the memory of 
The dance we shared beneath the stars above 
For a moment all the world was right 
How could I have known you'd ever say goodbye 
And now I'm glad I didn't know 
The way it all would end the way it all would go 
Our lives are better left to chance I could have missed the pain 
But I'd have to miss the dance 
Holding you I held everything 
For a moment wasn't I the king 
But if I'd only known how the king would fall 
Hey who's to say you know I might have changed it all 
And now I'm glad I didn't know 
The way it all would end the way it all would go 
Our lives are better left to chance I could have missed the pain 
But I'd've had to miss the dance 
Yes my life is better left to chance 
I could have missed the pain but I'd've had to miss the dance
————————————————————————
Songwriters: Tony Arata
The Dance lyrics © Warner/Chappell Music, Inc