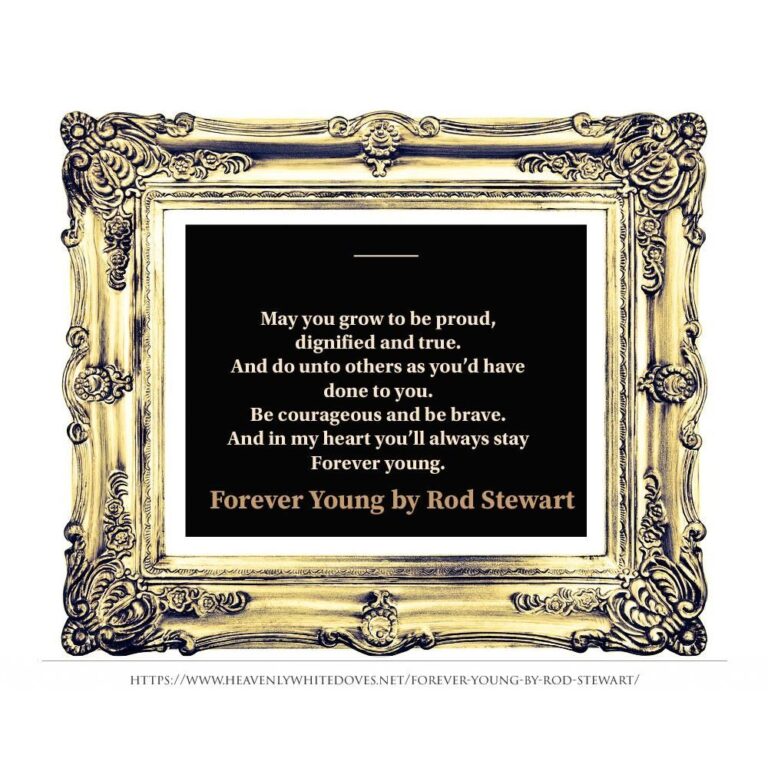 When Rod Stewart wrote 'Forever Young' in 1988 he was inspired by Bob Dylan's 1973 song. When Bob Dylan wrote his version he was thinking about one of his sons, and wanted to write a blessing from a parent to a child, but he didn't want to make it too sentimental.
Rod Stewart also wanted to write his song as a tribute to his kids. Rod Stewart must have decided that his version was so similar to the Dylan version that he gave Bob Dylan writing credit when he published his song.
Listen to both and let me know what you think in the comments below.
May the good Lord be with you down every road you roam.
And may sunshine and happiness surround you when you're far from home.
And my you grow to be proud, dignified and true.
And do unto others as you'd have done to you.
Be courageous and be brave.
And in my heart you'll always stay
Forever young. (Forever young)
Forever young. (Forever young)
May good fortune be with you, may your guiding light be strong,
Build a stairway to heaven with a prince or a vagabond.
And may you never love in vain.
And in my heart you will remain
Forever young. (Forever young)
Forever young. (Forever young)
Forever young. Forever young
And when you fin'lly fly away, I'll be hoping that I served you well.
For all the wisdom of a lifetime, no one can ever tell.
But whatever road you choose, I'm right behind you win or lose,
Forever young. (Forever young)
Forever young. (Forever young)
Forever young. Forever young
For forever young
———————————————————————————————————–
Songwriters: Bob Dylan / Jim Cregan / Kevin Savigar / Rod Stewart
Forever Young lyrics © Sony/ATV Music Publishing LLC, Warner/Chappell Music, Inc, Audiam, Inc, BMG Rights Management
May God bless and keep you always
May your wishes all come true
May you always do for others
And let others do for you
May you build a ladder to the stars
And climb on every rung
May you stay
Forever young
Forever young
Forever young
May you stay
Forever young
May you grow up to be righteous
May you grow up to be true
May you always know the truth
And see the lights surrounding you
May you always be courageous
Stand upright and be strong
And may you stay
Forever young
Forever young
Forever young
May you stay
Forever young
May your hands always be busy
May your feet always be swift
May you have a strong foundation
When the winds of changes shift
May your heart always be joyful
May your song always be sung
And may you stay
Forever young
Forever young
Forever young
May you stay
Forever young
——————————————————————–
Songwriters: Bob Dylan
Forever Young lyrics © Sony/ATV Music Publishing LLC, Audiam, Inc