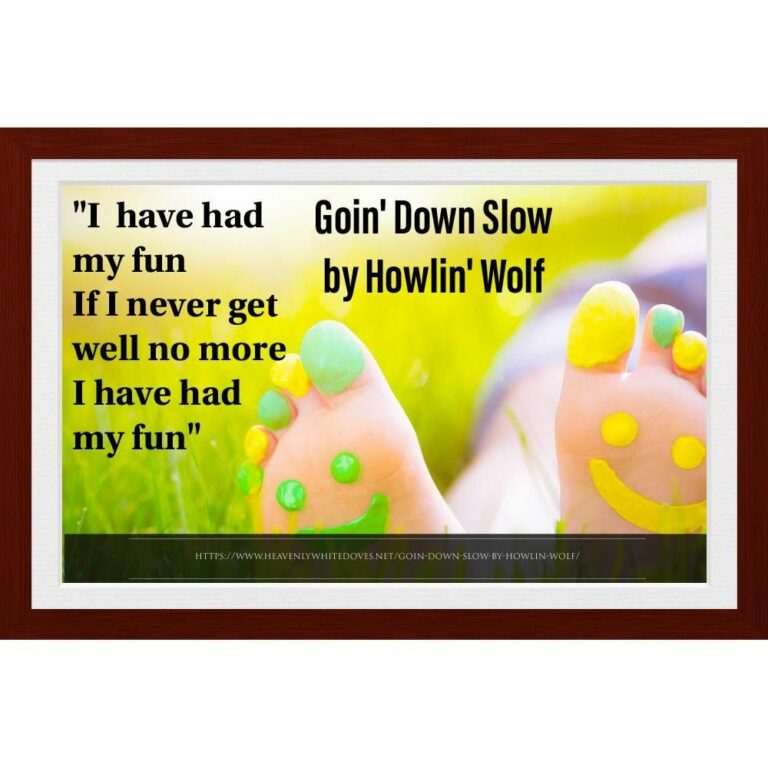 'Goin Down Slow' is a classic 12 bar blues song, written in 1941. It has been recorded by over 20 different artists, but this version by Howlin' Wolf is one of the most famous. 
According to Blues site, sittingatthefootoftheblues.com, this song is the lament of a man whose life is coming to the end. He wants his loved ones to know that he's had an excellent life, but is asking for forgiveness of all his wrong doings.
Man
You know I done enjoyed things that kings and queens will never have
In fact, kings and queens can never get
And they don't even know about
And good times, mmm-mmm
I have had my fun
If I never get well no more
I have had my fun
If I never get well no more
Oh, my health is fading, oh
Oh, yes I'm going down slow
Now lookit here
I did not say I was a millionaire
But I said I have spent more money than a millionaire
'Cause if I had kept all the money then I had already spent
I would've been a millionaire a long time ago
And women, great googly-moogly!
Please write my mama
Tell her the shape I'm in
Please write my ol' mother
Tell her the shape I'm in
Tell her to pray for, oh
Forgive me for my sins
——————————————-
Songwriters: James B. Oden
Goin' Down Slow lyrics © BMG Rights Management US, LLC