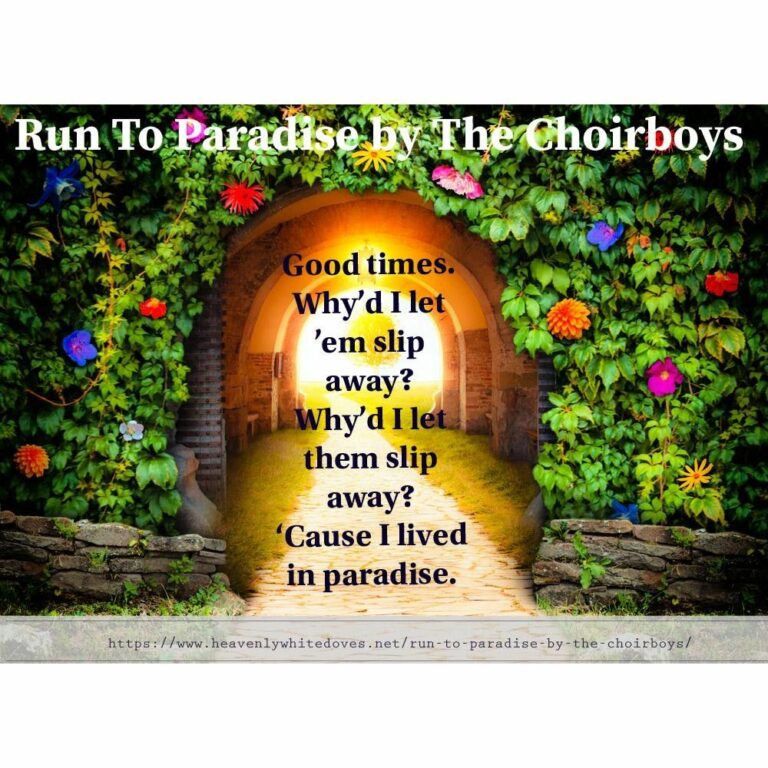 "Run to Paradise" is a song that would be familiar to anyone that grew up in Australia in the 1980's and 90's. According to an article in The Daily Telegraph the song is an anti-drug use anthem.
"It's about people being on the northern beaches of Sydney where I grew up, and they were just wasting their time getting drunk, smoking dope, surfing and not working and I was really critical of that," singer of the band, Mark Gable said. "They were just a bunch of bludgers, and I didn't mind bludging myself, but they just seemed directionless, living in paradise.
Although this seems an unlikely choice to play at a funeral, I have heard it being played at funerals of people who have taken their own lives or passed away due to drug overdoses.
Baby, you were always gonna be the one
You only ever did it just for fun
But you run to paradise
Jenny, I'll meet you at the grocery store
You don't need a friend when you can score
You run to paradise
Johnny, we were always best of friends
Stick together and defend
But you run to paradise
And mamma, now don't you worry 'bout me anymore
And I see you crying at the door
When I run to paradise
That's right, they had it all worked out
You were young and blonde 
And you could never do wrong
That's right, they were so surprised
You opened their eyes up
(Opened their eyes up)
Opened their eyes up
You don't want anyone 
(You don't, you don't, open your eyes up)
You don't want anyone
(You don't, you're no fool)
Don't tell me, this is paradise
(Open your eyes up)
You don't want anyone
(You don't, open your eyes up)
You don't want anyone
(You don't, you're no fool)
Don't tell me, this is paradise
Good times, why'd I let 'em slip away
Why'd I let them slip away
'Cause I lived in paradise
Run to paradise
Run to paradise
Run to paradise
Jesus says it's gonna be alright
He's gonna pat my back
So I can walk in the light (that's right)
You don't mind if I abuse myself
So I can hold my head up
(Hold my head up)
Hold my head up
You don't want anyone
(You don't, hold my head up)
You don't want anyone
(You don't, you're no fool)
Don't tell me, this is paradise
(Open your eyes up)
You don't need anyone
(Open your eyes up)
You don't need anyone
You'll tell me, this is paradise
You don't want anyone 
(You don't, you don't, open your eyes up)
You don't want anyone
(You don't, you're no fool)
Don't tell me, this is paradise
(Open your eyes up)
You don't want anyone
(You don't, open your eyes up)
You don't want anyone
(You don't, you're no fool)
Don't tell me, this is paradise
You don't want anyone 
(You don't, you don't, open your eyes up)
You don't want anyone
(You don't, you're no fool)
Don't tell me, this is paradise
(Open your eyes up)
You don't want anyone
(You don't, open your eyes up)
You don't want anyone
(You don't, you're no fool)
Don't tell me, this is paradise
————————————————————
Run To Paradise lyrics © O/B/O Apra Amcos