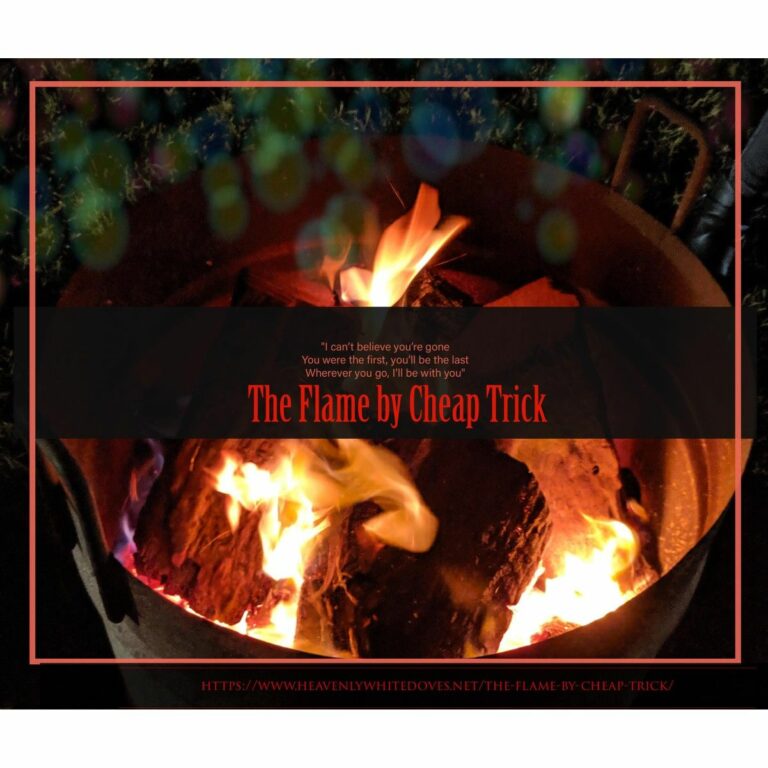 The Flame was released in 1988 to much acclaim. This song was one of the most popular songs ever released by Cheap Trick.
It was written by a British songwriting duo, Bob Mitchell and Nick Graham. 
The song is about eternal love and the heartbreak of being away from the person you love.
I believe what makes this song so heartfelt is the emotion in Robin Zander's voice and the sounds of the guitar chords that pluck at the heartstrings.
Another night slowly closes in
And I feel so lonely
Touching heat freezing on my skin
I pretend you still hold me
I'm going crazy, I'm losing sleep
I'm in too far, I'm in way too deep over you
I can't believe you're gone
You were the first, you'll be the last
Wherever you go, I'll be with you
Whatever you want, I'll give it to you
Whenever you need someone
To lay your heart and head upon
Remember, after the fire, after all the rain
I will be the flame
I will be the flame
Watching shadows move across the wall
I feel so frightened
I wanna run to you, I wanna call
But I've been hit by lightning
Just can't stand up for fallin' apart
Can't see through this veil across my heart, over you
You were the first, you'll be the last
Wherever you go, I'll be with you
Whatever you want, I'll give it to you
Whenever you need someone
To lay your heart and head upon
Remember, after the fire, after all the rain
I will be the flame
I will be the flame
I'm going crazy, I'm losing sleep
I'm in too far, I'm in way too deep over you
You'll always be the one
You were the first, you'll be the last
Wherever you go, I'll be with you
Whatever you want, I'll give it to you
Whenever you need someone
To lay your heart and head upon
Remember, after the fire, after all the rain
I will be the flame
I will be the flame
Whatever you want, I'll give it to you
Wherever you go, I'll be with you
And whatever you want, I'll give it to you
———————————————————–
Songwriters: Nick Graham / Bob Mitchell
The Flame lyrics © Sony/ATV Music Publishing LLC