I always laughed at crazy cat ladies and people who treat their dogs like furry humans….until 6 months ago when we got Toby the blue cattle dog. Now it all makes sense because now he the cutest furriest member of our family. Life would not be the same without him. Toby makes us laugh when he chases shadows around the backyard. He intuitively knows when my son is coming home because he will wait at the front door for 5 minutes before my son actually walks in. That is Toby giving us the expression in the photo above when he's trying to charm us to share our food with him. When I take him for walks, he likes to grab the leash in his mouth and march ahead with ears back and tail out straight like he's got a very important job to do (ie. take me for a walk).  He is gentle, playful and loyal.
Now I understand how the devastation of losing a pet could cause as much grief as the loss of a close friend. So I was inspired to come up with a page of poems and songs that would hopefully bring comfort to anyone who has just had to say goodbye to their own special furry friend.
'Weep Not For Me' was written on the death of Contance Jenkins' beloved pet cat.
Weep not for me though I have gone
Into that gentle night
Grieve if you will, but not for long
Upon my soul's sweet flight
I am at peace, my soul's at rest
There is no need for tears
For with your love I was so blessed
For all those many years
There is no pain, I suffer not
The fear is now all gone
Put now these things out of your thoughts
In your memory, I live on
Remember not my fight for breath
Remember not the strife
Please do not dwell upon my death
But celebrate my life
2) Four Feet by Rudyard Kipling
This is one of a few poems about dogs written by Rudyard Kipling who lived from 1865-1936. Rudyard Kipling is most famous for the Jungle Book and the poem called 'If'. His family owned dogs and they must have inspired his creative imagination.
I have done mostly what most men do,
And pushed it out of my mind;
But I can't forget, if I wanted to,
Four-Feet trotting behind.
Day after day, the whole day through —
Wherever my road inclined —
Four-feet said, "I am coming with you!"
And trotted along behind.
Now I must go by some other round, —
Which I shall never find —
Somewhere that does not carry the sound
Of Four-Feet trotting behind. 
3) Pawprints Left By You by Teri Harrison
According to this blog, the poem below was written by Teri Harrison after the passing of her German Shepherd Kip.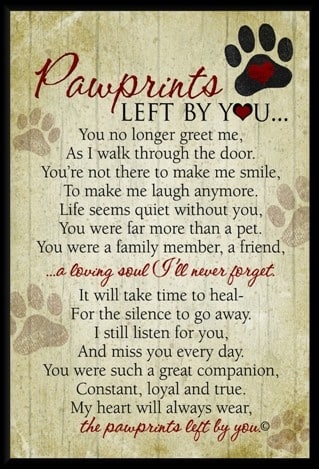 Shop Pet Mementos on the Heavenly Doves store